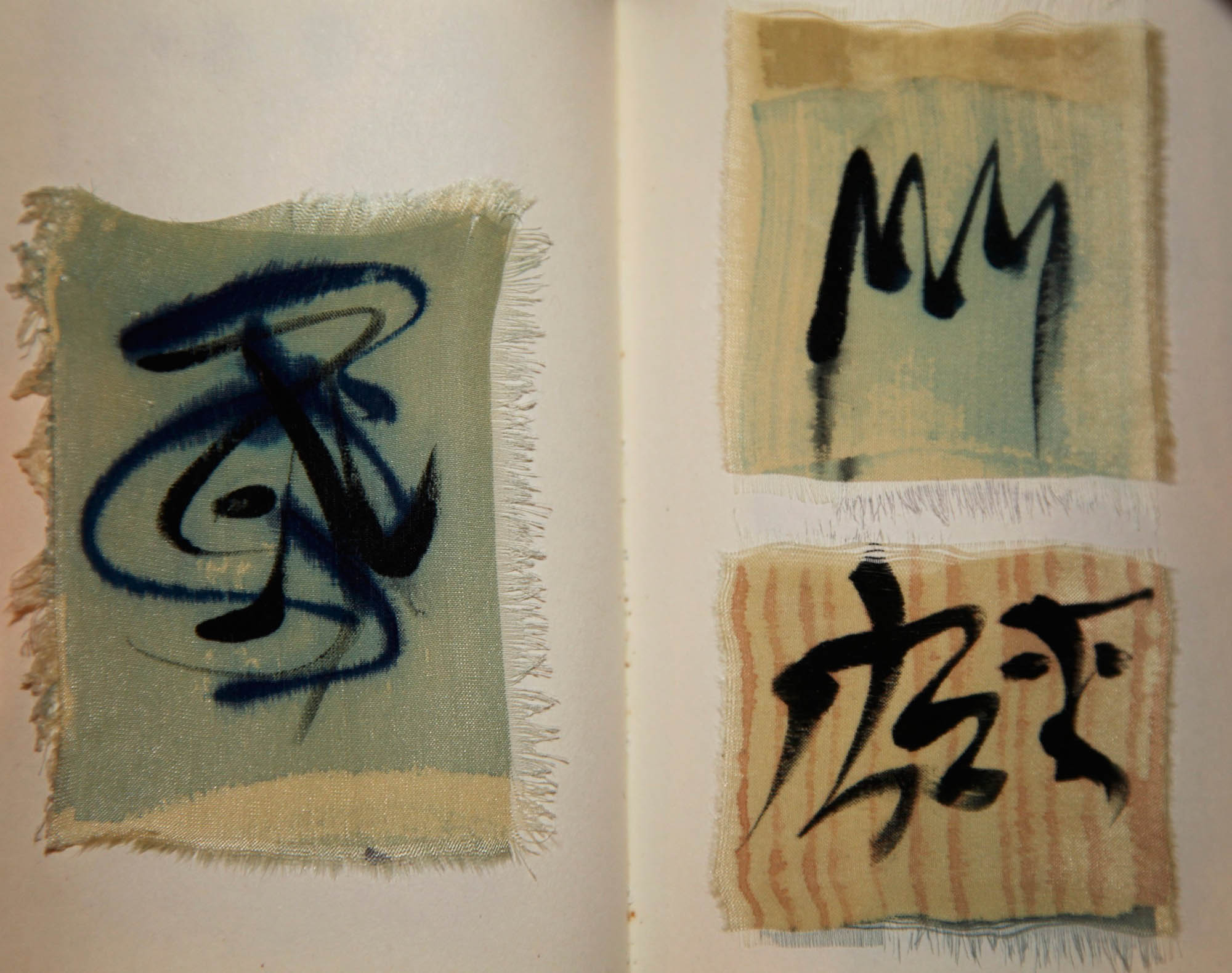 IT

Alla scoperta di segni inesplorati, prendono forma nuovi alfabeti visivi. Si materializzano scritture immaginarie ma intensamente evocative: grafie orientali, ideogrammi indovinati in filigrana, o ancora tugre, le firme impetuose dei sultani tatuate nelle grandi moschee di Istanbul; affiorano suggestioni del pittoricissimo alfabeto ebraico, si indovina la bellezza delle calligrafie persiane.
È un caos apparente di lettere governato con fermezza, quasi un telaio alfabetico in cui i colori improvvisano nuove danze, pas de deux in perfetta parità parola-segno. Dove la parola è ingannevolmente famigliare e il colore ama uscire dal perimetro del suo nome per combinarsi in una tensione fluida, diventare altro.

 

EN

New visual alphabets take form in discovering unexplored signs and imaginary, yet intensely evocative, calligraphies materialise: oriental writing shapes; barely visible watermark ideograms; or toughra, the impetuous signatures of Sultans tattooed onto the walls of Istanbul's large mosques; suggestions of the picturesque Hebrew alphabet appear now and then, and the beauty of Persian calligraphy, all come to mind. These letters and scripts appear chaotic but, in reality, are confidently governed. It is almost an alphabetic loom in which colours improvise innovative dances, pas de deux where word and sign are perfectly balanced. There the word is deceptively familiar and colour loves to move beyond the perimeter of its name to melt into a liquid tension, becoming other.

 

FR

A la découverte de signes inexplorés, de nouveaux alphabets visuels prennent forme. Des écritures imaginaires mais très évocatrices se matérialisent: graphies orientales, idéogrammes qui se devinent en filigrane ou bien toughra, les signatures impétueuses des sultans tatouées dans les grandes mosquées d'Istanbul. Certaines ébauches du pittoresque alphabet hébraïque ou encore la beauté des calligraphies persanes affleurent par moments. Un chaos apparent de lettres gouverné avec fermeté, une sorte de canevas alphabétique où les couleurs improvisent de nouvelles danses, pas de deux en parfaite harmonie parole-signe.
Où la parole est trompeusement familière et la couleur aime sortir du périmètre de son nom pour se mêler dans une tension fluide et devenir autre.